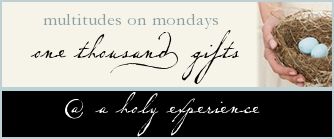 81. Sowing seeds.
82. Falls harvest abundant and colorful.
83. A growing garden.
84. Watering of parched land.
85. Words to live by.
86. First in line.
87. A new favorite pair of shoes.
88. Cures for disease.
89. Homes for the homeless.
90. Colorful, warm quilts.
91. A caterpillars surrender to turn into a butterfly.
92. A butterflies dance under the blue sky.
93. The song of the morning bird perched high in the oak tree.
94 Fingers running through hair.
95. A box of new crayons.
Thankful for the many blessings today in my life. Most thankful that my eyes are open to see those many blessings. My ears are open to hear, and my feet are dancing not just walking to the new song of joy and thanksgiving inside my heart.
"...the blind see, the lame walk, the lepers are cured, the deaf hear, the dead are raised to life, and the Good News is being preached to the poor."
Matthew 11:5