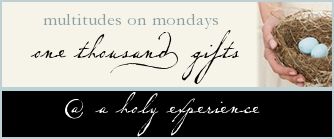 This precious, wonderful list continues on this glorious Monday Morning.
211. Moon's light in the darkness.
212. Having a place saved for you.
213. Loves touch.
214. Loves first kiss.
215. Arms that hold you when you shake.
216. Strong legs that hold you up and take you where you need to go.
217. Green pastures.
218. Book stores.
219. Libraries.
220. Solved mysteries.
221. Solutions to problems.
222. Medicines that heal.
223. A surgeons steady hands.
224. Love stories.
225. Fearlessness.
226. Scented candles burning.
227. Melodies that teach us to dance.
228. Playing in puddles.
229. Dreams and visions.
230. Mud pies.
"Gratitude is the fairest blossom which springs from the soul."
Henry Ward Beecher