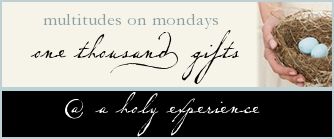 281. A week off of vacation.
282. Both kids home asleep in their beds.
283. No rushing around frantic.
284. The still of the night.
285. The still of the morning.
286. The sound of my laptops keyboard strumming out words.
287. The sun shining in my bedroom window.
288. Clean sheets.
289. A new mattress.
290. Kisses on my forehead.
"Now may the Lord of peace Himself continually grant you peace in every circumstance. The Lord be with you all!"
2 Thessalonians 3:16