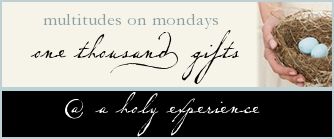 241. Tying up loose ends.
242. A-ha moments.
243. Discovering that you can when everyone else said that you couldn't.
244. Blue, clear skies.
245. Pictures in the clouds.
246. Lady bugs landing on noses.
247. A warm, cozy bed to sleep in.
248. A pillow to rest your head upon.
249. Something lost has been found.
250. Puddles to splash in.
251. Lakes to swim in.
252. Shade under a tree.
253. Trees that clap their hands.
254. Leaves fluttering in the wind.
255. Feeding the hungry.
"Let your roots grow down into him, and let your lives be built on him. Then your faith will grow strong in the truth you were taught, and you will overflow with thankfulness."
Colossians 2:7