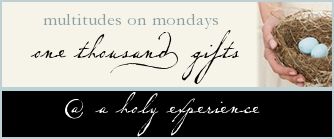 Today I am so thankful. So very, very thankful that:
256. Spring has finally sprung.
257. The warmth of the sun.
258. The fragrance of flowers.
259. Things back in their proper place.
260. Serenity of nature.
261. Birds singing new songs.
262. Triumph and victories.
263. Warm breezes.
264. Dogs lapping up water after running and playing in the yard.
265. Smiles and kisses.
266. Hugs
267. Swedish fish (the red ones).
268. knowing eyes.
269. Fulfillment in the little things.
270. Songs that make you want to dance.
"...We give thanks to you, O God, we give thanks, for your Name is near; men tell of your wonderful deeds."
Psalm 75:1