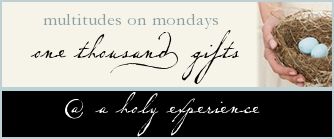 312. Waking up to the smell of fresh brewed coffee.
313. A full blue sky with a bright yellow sun.
314. The sound of water hitting the rocks.
315. The sound of your husband voice as he whispers sweet nothings in your ear.
316. A son triumph to become a licensed driver.
317. Having just enough.
318. Being needed.
319. Dogs rolling in the dirt after a bath! UGH!
320. Fresh picked tomatoes from a garden.
321. Sweet corn.
322. Cucumber salads.
323. Squishing sand between your toes.
324. The smell of pine.
325. Summer's fire pit.
So thankful for today and the many blessings in my life. Look close there are blessing around every corner!