a href="http://www.aholyexperience.com" target="_blank">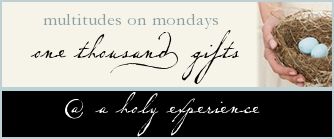 It has been a while but I will continue on with my list:
301: Promises
302: Hope
303: Faith
304: Purity
305: Sincerity
306: Love
307: Compassion
308: Passion
309: Fire
310: Zeal
I pray every day I have all of these qualities listed on my list, in my life. That all of these small simple words that have great meaning play some kind of a role in all of my choices every day. That I may choose to live out the meanings of each word written on my list today.
"And give thanks for everything to God the Father in the name of our Lord Jesus Christ." Ephesians 5:20